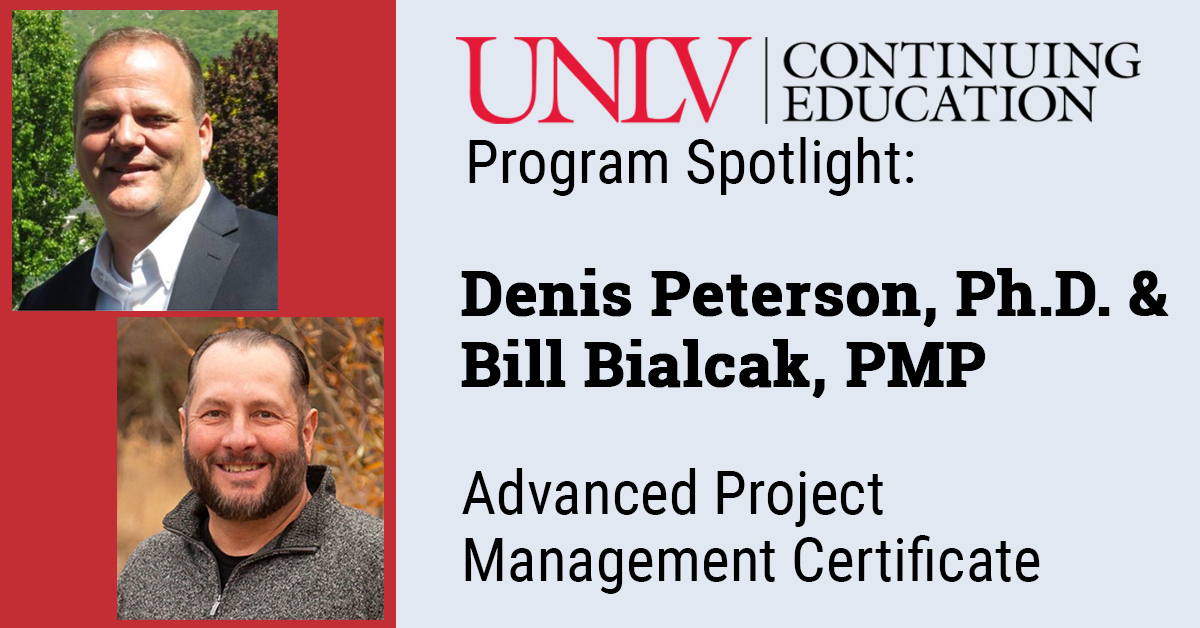 On time and under budget–that is the goal of any project management professional. It's a concept easily attainable on paper, but real world execution often results in the opposite–late and over budget. Denis Peterson, Ph.D., president of Petersen Training, LLC, has had to step in and course correct a lot of projects during his career and decided he could provide training that resulted in maximum efficiency. This led to a partnership with UNLV Continuing Education to offer the Advanced Project Management Certificate program in southern Nevada.
Petersen and his managing partner Bill Bialcak utilized their combined 32 years of military experience in the United States Air Force to develop a hybrid program that utilizes online training combined with classroom instruction and live simulation to prepare students not just for the PMP® Exam, but for real world project management within a number of industries. Speaking with Bill, he assured us the program is "very user friendly. It's a continuing education experience.
We know our students are very busy; they have families and careers, and we want them to succeed." Students meet for classroom training three times for 3-5 days each, plus hone their skills in a responsive online platform.
Bill, who developed the program specifically for UNLV's needs, knows the key to any great program is the instructors who pass on knowledge and experience to their students. The Petersen Training instructors have advanced training credentials, are certified as Project Management Professionals (PMP®), and each one has over twenty years of project management experience.
Petersen Training's first time pass rate for people who take the PMP® Exam is over 90%, which is the highest in the industry. Denis attributes this success to their years of project management experience, their great relationship and partnership with the Project Management Institute, and of course the specialized training they offer in this program.
"The Advanced Project Management Certificate program is the most sophisticated project management training and certification program available anywhere on the market."